Interview and Podcast with Mahfoud
Dreamer, 3 years ago
0
6 min

read
1634
M
âhfoud, 27, . Vocalist, Lyricist, Instrumentalist, Composer and Producer. He brings the whole package. Not easy to define his music, maybe because there is no intention to do so. However, when listening more closely you will discover his signature on each and every piece he composes and plays.
His first impressions of club culture started in 2008 when he had the opportunity to play alongside great German DJ's.
His musicality, coming from Jazz and Soul music, has taught him to break the rules to create something from within. In 2014 this impulse lead him to a collaboration with Thyladomid, with whom he released "The Real Thing EP" on Diynamic , joined by Adriatique and Stimming who both remixed the single and additionally gave it their own touch for the dance floor.
In the same year, he took off with his solo debut "Aleppo" on the cologne based label Jannowitz Records and quickly climbed up the Beatport Electronica Charts to hit the Top 20. To keep it in Mâhfoud's words: "Paint the color of music on the sheet of silence. It is not what you hear, but what remains hidden. For that life is a journey and every moment a paradise." One year later he released on the Cologne based label "Traum"
---
---
Interview
You are vocalist, lyricist, instrumentalist, composer and producer. Wow, you bring the whole package. J How did it all begin?
Thank you. I wish I knew, I guess it was curiosity and love for the detail that made me discover music. I started with really loud stuff, later only I discovered the beauty of creating something silent and small. In retrospective I simply believe I was born to create music.
What's your first song that you've written and what influenced you to do that?
I can not precisely remember the first song I have written, but I remember that in the very early days my music was always influenced by the feeling of love and the desire to find truth and answers in things I could not understand. I was writing lyrics of things I havent even experienced at that point of my life, but occured in a distant future.
---
We know that you joined Diynamic recently. How do you feel being part of one of the greatest labels today?
It was a great and important experience for me, the release on Diynamic and the work with Thyladomid was a milestone in my musical carreer thus far. I am very thankful for it.
How can you define your music?
By not defining it at all.
---
Many of the artists find inspiration in everything that surrounds them. What is your muse? Can you give us particular example?
It is so powerful. We humans always strive to become the happiest we can be, search for fulfillment and beauty, most of us at least, and we never really reach the point, unless we get enlightened. Melancholy is the fight between black and white, yin and yang, and most importantly – between happiness and sadness. If we learn to accept that both extremes are just as significant and part of life as the exertion to become fulfilled, we can learn to enjoy. I find a lot of inspiration in these greyzones.
Do emotions favor you when you play for a large audience? How do you feel in that instance?
They mostly overwhelm me, eventhough I feel like I am in my own little bubble sometimes. I often had moments in which my emotions overcame me and I cried out of hapieness, for myself, for a second. But it is also great to be able to connect with your audience and reach a level of creativity that you can not achieve by yourself.
We loved your song improvised for Wedovoodoo Team. What do you prefer: DJ-ing or playing in a live concert ?
Djing is a lot of fun and a very interesting challenge for me. I am always trying to combine both, which is really hard. Now, I am working on breaking those two elements up. I am a vocalist also and it is very important for me to be able to get my voice out. I feel I have been neglecting this lately and definitely want to get back to it in the future.
---
What are you up to lately and what are you planning in the near future?
I am working on various tracks with some inspiring artists, hopefully to be released this summer. I have also, as mentioned above, decided to go back to live music, too. A befriended Drummer and I are planning to commence a Electronica project with proper songwriting and my voice. Also, I just came back from a very inspiring trip from south east Asia. Let's see what we can take to the studio.
Have you ever met Romanian people? If so, what do you think about them and of their musical background?
Oh yes, I have. A Romanian girl is organizing some techno parties in the city I live and invites artists like Herodot. I think Romania has a very vibrant scene, very underground and from the productions I have heard: Very, very good.
There are some cases in which people are not that perceptive to what it is presented in front of them. What would you do in such a case? How much of your performance is shaped by the feedback of the audience?
It is an exchange of energy, really. You get what you give. Give it all you got, always. Art means being naked.
What is the most embarrassing thing that has happened to you in this industry?
A lot of times the whole sound system collapsed the moment I laid fingers on the Mixer. It is especially embarassing when you are headlining a party and people anticipate your performance or worse, dont even know you yet. They truly believe it is your fault. After the sound system was back on track, I fucked up a lot of transitions, because I was nervous and could not focus on the music. I saw a lot of people leave because of that.
---
Out of topic now: We saw that you love to cook for your friends. What is your favorite plating?

Every dish that is made with love. But my mothers food is definitely the best, check out the Middle Eastern dish: Kusa Mahshi.

Another one: If you could see 24 hours into the future what would you do with this ability?

Accept what is about to happen.

 
Related posts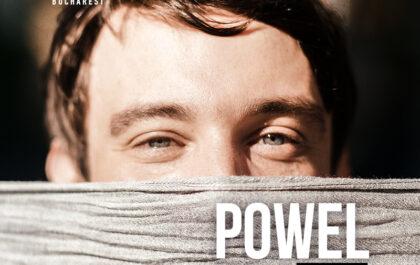 Interview and Podcast with Powel (All Day I Dream
Berlin based DJ and producer POWEL is the author of stellar remixes and productions of incredible musicality. His signature rhythms,…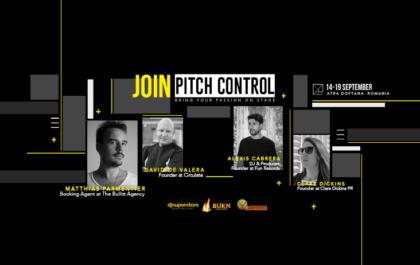 PITCH CONTROL II
The program that aims at helping the new wave of Romanian  electronic music artists. The second edition of Pitch Control…
Instagram
Instagram did not return a 200.