Interview and Podcast with Gabriel Ananda
Dreamer, 3 years ago
0
9 min

read
4339
O
ur guest for the Interview and Podcast series is Gabriel Ananda, one of our favourite German DJs and producers. Recently, Gabriel launched his 'Selected Remixes' compilation, which could he describes as a 'pretty personal double album reflecting 2 sides of life, going deep and going out of yourself'.
Recently, Gabriel launched his 'Selected Remixes' compilation, which could he describes as a 'pretty personal double album reflecting 2 sides of life, going deep and going out of yourself'. He also reveals that it took us ages to make it happen since there are so many labels and artists involved in the process. Having succeeded that is quite a realisation in itself.
Gabriel Ananda always had a special love affair with music, in general. By the early age of 8, he became captivated by the sound of classical music. Thus, his family encouraged the young boy to practice the cello. Nevertheless, it was the guitar that he ultimately fell in love with and also fueled his motivation to continue to learn about music and express his creativity.
This wasn't the final path for Gabriel Ananda, though, as he finally stopped searching
for his musical direction in 1995. Back then, A DJ set by Sven Väth has been the pivotal moment that ended Gabriel's search to find his passion. Two years later, the new producer celebrated his first release for the German label Hörspielmusik. Then, he went on to release singles on Treibstoff, Trapez, Platzhirsch, and Karmarouge before producing what was for him, a life changing track.
His 2004 release of "Süssholz" went straight to the top of the German DJ charts, landing in the playlists of any well-known DJ. It was followed by another "hit" in 2005 titled "Ihre persönliche Glücksmelodie", and then "Doppelwhipper", which topped the end of year charts in 2006 and placed Gabriel Ananda in the eyes and ears of an international audience, and quickly became one of the main contributors to the growing Techno scene of Cologne. He began playing for the most prestigious events on an international level, as a DJ, and a live act, using not only his own productions, but also self-made MIDI controllers, showing his passion for all aspects of music, and the performance.
In 2008, Gabriel Ananda founded his own label, Basmati, as a place where he can release his own productions with complete artistic freedom, and by the end of 2011 Basmati celebrated its nine releases, eight of those from Gabriel himself. One of the most notable being the Live Series, which brings the energy of his live sets to the DJ, and includes the worldwide chart topper, "Hey Blop".
---
---
Interview
We know that you've been raised in a musical environment dominated by classical music, from an early age. In your bio, you pinpoint a DJ set by Sven Väth as the pivotal moment in your search for musical direction. Was it a huge leap, or was it a gradual process of settling for electronic music?  
It was both. Musically, it was a slow process, but in terms of how I want to experience life, it was a big step. It took me more than 10 years to figure things out. It was not only the music, which really got me into techno, it was the community spirit, the togetherness, no matter who you are.
The music scene back then was very defined. You had rock, gothic, hip hop and pop. And all these scenes had a set of behavioural rules, clothing and all that stuff. Also, they didn't quite like the other scenes. Techno was somehow different, as everybody was welcome. Techno was outsiders' music and nobody had the arrogance to look down on other kinds of music and people. So, this feeling of being part of an open-minded, peaceful and progressive family won my heart.
When I started making music, I had the simplest equipment ever: a general midi sound module, with 128 sounds like piano, organ etc. and an Atari. So, even if I wanted to, I couldn't make proper productions and had to deal with the fact that I had to really play with melodies and misuse instruments to get something interesting. Later, it was my advantage that I could think outside the box and was able to play melodies.
What artist should the young generation try to discover in order for them to fall in love with house music? 
I don't know really. Nowadays, you need to be an expert to answer that. In my set, there are maybe 300 tracks from 280 different artists.
Do you have any advice for the next generation of DJs and house music producers? What should they be focused on? 
That depends on every individual. But, what I want to recommend is that people study the roots of the music they want to do. If you want to do melodic stuff, study music with a lot of harmonic content: pop music, classical music etc. and learn to understand that melodies need a good foundation of chords, all these little rules and include this into your tool set.
When I check the music out, my ears bleed from all these 3 notes melodies; all of them sound the same. Basically, every 5th production is inspired by Stephan Bodzin's 'Powers of ten' album. It sounds very much alike and they make tracks which want to emulate Bodzin, but they cannot because Stephan plays the piano, he really knows how melodies and harmonies work, what he did on this album is far superior to taking a Moog preset and playing 3 notes. He studied this stuff over the years and he learned how to express his own, personal emotions.
The same applies to groovy music. Study South American, African, Cuban and Indian music and learn what makes a groove. Make a track in all these styles to study it, understand and then translate it into techno. Making music is damn difficult and it's not only the sounds and the production, it's mainly the content, your musical knowledge and background and your emotion in that moment which makes the track good and timeless.
---
Do you have a special routine in the studio or when preparing for a gig? Do you usually research the environment in which you are about to play in?  
I start with the gigs. What I take into account are the following elements: time of the year (maybe weather), open air or club. Also, it depends if we are set in a Southern or Northern place, countryside or city and country in general. So, an open air gig in an Italian city will be medium minimal, percussive, groovy and later melodic, but not too deep and melancholic.
Before I play, I try to have all the tracks from my bag in my mind, in order to react intuitively in the moment on what I feel is right. It's sometimes better to not have too many tracks in the set and especially not too many new ones which you don't really know. Only when you really know what a track does, you can create a perfect story. If you play a good story, every track will sound much better compared to a random set.
In the studio, there is no preparation. It's only important that I feel energetic and into music. So, if I want to be more productive, I have to do some fitness workouts and listen to good music in an amount, that it inspires but not overwhelms me.
You recently released an amazing compilation for Soulful Techno Records, entitled Selected Remixes and it sounds purely magical. How did this whole project start to take shape?  
When I listen through the remixes, it feels like an album and that they fit together and belong together. They are all very personal. So we decided to put them on an album to give people the chance to listen to the whole story. Hence, we gathered them all together and the result is even better than expected, I simply love to listen to it. There is also a vinyl, which contains 2 megamixes of almost all remixes. Every mix is around 27 minutes long. You just put the vinyl on and have good music for 27 minutes. I think this is how vinyl is used nowadays, but as far as I know, nobody ever did that before.
---
We know you played for us in Romania already. What was your impression of Bucharest party scene?  
To be very honest, it's a bit ago and I don't remember much of Bucharest. But I remember different places and that I was amazed how the people carry you on a cloud of joy throughout the whole night. It's always been a pleasure to play there!
When can we see you again in Romania?  
We are working on several shows in Romania at the moment, yet we have nothing fixed yet, but I hope to be back soon
There's a philosophical discussion regarding arts in general and their expiration dates. For instance, there are a lot of people that consider Theatre, Opera or even Cinema as repetitive and fully drained of meaning or ideas. In other words, there's not much else to say. Do you think electronic music also has an 'expiration' date somewhere in the future?  
Interesting question, but I believe the question is already wrong. Repetition is not a quality aspect, it is completely meaningless when you don't put it in an environment. A car, for instance, should be repetitive, same as a computer or the seasons. Other things are good when they are in a change. So you cannot take single aspects, give them a random value and make a theory out of it. You have to understand the whole dynamic of the system and especially you have to know in what system you are in.
In this case, there are so many people and aspects involved, that it is a highly chaotic and non-predictable system, like the weather. Every forecast more than 2 weeks is completely random. I personally think, as long as people feel something, either when listening or dancing, techno has a lobby, same as Cinema, Theater and everything else. So, the answer is definitely NO, there is no expiration date.
Name a club that absolutely swept you off your feet, during your DJing career!
Usually, these are festivals, like 'Rainbow Serpent' in Australia, early 'Fusion' festivals, before they got into getting rich, 'PollerWiesen' in Germany, 'Into the Woods' in the Netherlands. Many.
---
If you were asked to name a track that perfectly defines your personality, which track would you choose? 
I really like your questions, but I cannot answer this one. I don't even know who I am myself, actually. But, it would be a track with a warm and little melancholic foundation, a fluffy, groovy beat, with hope and energy and a big range of emotions. Maybe I have to make it one day!
Live at bloop. Radio London for the next hour!

Publicată de Gabriel Ananda pe Vineri, 30 Martie 2018
Related posts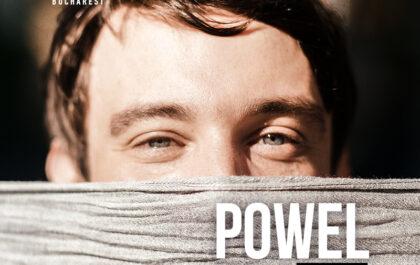 Interview and Podcast with Powel (All Day I Dream
Berlin based DJ and producer POWEL is the author of stellar remixes and productions of incredible musicality. His signature rhythms,…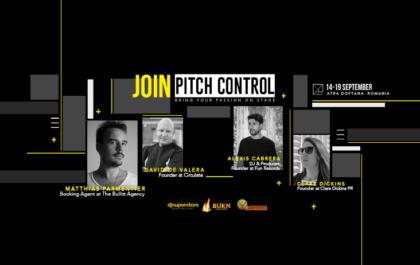 PITCH CONTROL II
The program that aims at helping the new wave of Romanian  electronic music artists. The second edition of Pitch Control…
Instagram
Instagram has returned invalid data.