Interview and Full Premiere with Arjuna Schiks
Dreamer, 3 years ago
0
5 min

read
2129
W
ith his sincere charm and melodic tunes, Arjuna Schiks brings a smile to the Dutch melodic house and techno scene. Like no other he knows how to stow a particular feel out of the speakers, seeping in your ears and unleashing emotions with his own distinctive melodic and energetic style.
On stage Arjuna has made quite a name for himself with his live performances at the biggest clubs and festivals in the Netherlands as well as many festivals and clubs in Germany, France, UK, Turkey, Lebanon etc. The list of projects to his name with live instrumentalists, film makers, poets and advertisers among others is also growing steadily, showcasing the broad diversity of his creative output. Appreciated for both his music and personality, Arjuna brightens up every dance floor he sets foot on.
His productions move on the borders of deep house and tech-house, saturated with intense synths and melancholic storytelling melodies. Dark electronic elements get alternated with warm, dreamy sentiments, inciting people to both listen with their eyes closed and dance euphorically.
---
He has released original material on respected imprints such as Gem Records, Einmusika, Soulful Techno, Parquet, Traum, Treibstoff, Steyoyoke and Wolfskuil. His work is always met with raving reviews and his productions have been remixed by the likes of Aril Brikha, Applescal and Nhar.
Arjuna Schiks is about to release 3 great tracks tomorrow, June 23, on Soulful Techno Records. It is tough to pick one favorite of of the bunch, yet we were amazed by Zijn, which casually gives the name of the EP. As a result, the Soulful guys were so kind as to give us a full premiere on this, just before the release.  You can preorder the EP already, from here.
---
Interview
How does your personal musical journey through life, got Arjuna Schiks were he is now? Can you pinpoint a moment in your life that you consider to be the start of your musical project?
I started to enjoy electronic music around the age of 13, listening to artist like James Holden, Sasha and John D​igweed. I think it was only a few years later that I started playing with software music programs like Rebirth and FruityLoops. It felt like a hobby or a passion at first, but after some years I realized that I wanted to do more than just play. The start of my musical project is probably my first vinyl release in 2008 called 'Afterbelle'.
Can you remember your first gig?
Yes, very well. It's a funny story, ​be​cause I​ didn't have a laptop back then and I​ brought my whole desktop with screen to this small and cosy DJ cafe/club called 'TWSTD' in Amsterdam. I think it was in 2007.
How do you usually prepare for one?
I always try to use different music in every set. So I usually prepare by adding my latest productions or ideas to my live set in A​bleton. Furthermore, I like playing and jamming with clips in A​bleton and making new patterns on my Roland TR8 drumcomputer.
---
We absolutely love your melodic music, sometimes filled with melancholia. It is highly cinematic, as you can close your eyes and connect to a specific personal memory. Who is your muse? 
That is highly secret information I can't share  But most inspiration in life come's from small things!
If you were to choose one track from all your productions, which would describe closest what you're really like as a human being, what would that be?
That is a really good question haha.. I think at this moment the track 'Zijn' from my Soulful Techno Ep is a good image of what I'm all about, at this moment. My overall track could be 'Smaragd'. Its one of my first releases from 2008 and I still love it these days.
---
We know you have a really nice release coming up on Soulful Techno, right on their first birthday. What can you tell us about your collaboration with them?
I met Gabriel some years ago in Cologne while I was playing at a Treibstoff event. We had a good chemistry and kept in touch. One year ago, Gabriel invited me to play b2b at his Soulful Techno evening in Cologne and I also visited him at home, where the idea for an EP for his label was born. There will be more b2b sets this year, even an allnighter, and probably some music productions too. ​
What is your view on Romanian electronic music scene?
I don't know much about it yet, but I heard good things and I would love to come over and discover it a bit
As we stated before, we very much love your music and we would like to see you play on a beach in Romania during this summer, or maybe the next. Do you have any plans for a gig like that anytime soon?
N​othing at the moment, unfortunately. ​I​ do have some nice gigs coming up in the summer, including my back2back live set with Gabriel Ananda at 'A day at the Park' in Amsterdam, but would be amazing to come and play in Romania soon!
---
Let's imagine you are our guide for a week in Holland. Well, our musical guide. Where would you take us?
​We could go to many different festivals and clubs of course, but it's also nice to go to the 'Jordaan' and listen to some Amsterdam Folk music, or maybe a Dutch jazz cafe at Leidsche Square. Even at the Rijksmuseum there are always very nice street musicians and these small things again are good for inspiration and getting to know the city as well.
Who is in your personal DJ Hall of Fame list?
James Holden, Stimming, Nicolas Jaar.
---
What is your funniest moment that happened to you during a gig?
One funny thing happened a few years ago at a festival in Haarlem. At a big climax confetti got everywhere including on my laptop. I tried to carefully blow it away but than a friend started helping me pressing the stop button ending all music for a few seconds.. Everybody went crazy and started shouting, there is even a funny movie clip online
Related posts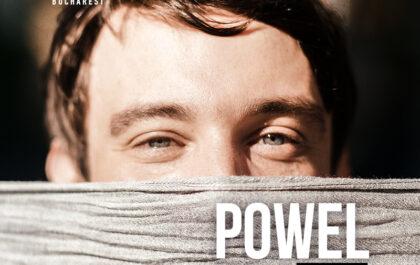 Interview and Podcast with Powel (All Day I Dream
Berlin based DJ and producer POWEL is the author of stellar remixes and productions of incredible musicality. His signature rhythms,…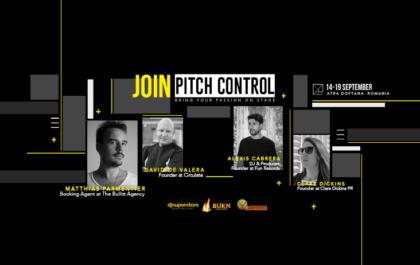 PITCH CONTROL II
The program that aims at helping the new wave of Romanian  electronic music artists. The second edition of Pitch Control…
Instagram
Instagram has returned invalid data.